Kids Club
Welcome to the Mother's Day Edition of the Woods Enchanted Kids Club!
In this edition you will find crafts, coloring pages, jokes and lots more fun to come.
Rock painting is simple and everyone can do it. This fun family activity doesn't require a lot of materials to get started. Mostly rocks are free, just look in your own backyard, but if you live in an area that rocks are not in abundance, no fear you can buy some from rock yards, local improvement stores!
Painting Rocks in 3 simple steps!
Clean the rocks with soapy water to remove dirt and debris before painting. Let it dry in the sun before painting.

Paint and Decorate! Acrylic paint or paint pens are the most popular choice for painting rocks.

Seal your painted rocks with a clear spray sealer or brush on varnish.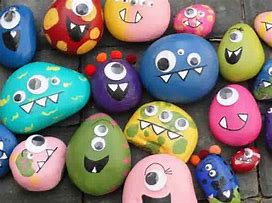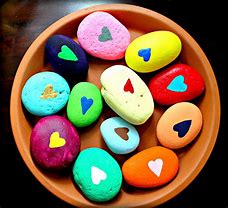 Homemade Mother's Day Flower Pot Craft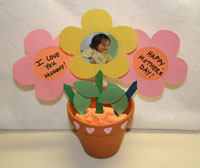 Let's Do This!!
This fun craft is a great homemade Mother's Day gift for Mom! She is sure to love this personalized flower pot with her favorite family pictures in it. Pick your favorite pictures for some of the flowers and write your own special message on the other flowers.
What you'll need:
3" Clay Pot
Clay
Colored Popsicle Sticks
Flower Template (see photo at bottom of page)
Construction Paper (many colors)
Scissors
Glue
Scotch Tape
Pictures
Paint, Markers, Crayons, etc
How to make your Homemade Mother's Day Flower Pot Craft:
Decorate your clay pot however you would like! Put it aside to dry.
Print out the flower template provided above.
Cut out the template flowers, trace them onto construction paper and cut out the construction paper flowers.
Cut the center circle out of the template flower. Place onto construction paper flowers and trace around it. Carefully cut out the center circle in each of the construction paper flowers.
Tape pictures or sayings on the back of each flower so that they are visible through the hole.
Tape a popsicle stick to the bottom of each flower as the stem.
Cut leaves out of green construction paper and glue to each popsicle stick.
Fill the clay pot with clay. Stick the popsicle sticks into the clay to complete the craft!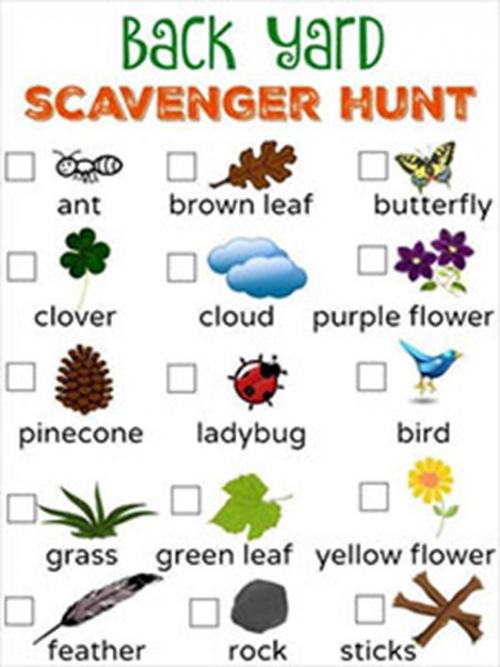 BACKYARD SCAVENGER HUNT is a fun family activity to play when you are spending time outdoors!
Jokes to Share!
What do you call a group of rabbits hopping backwards? A receding hare line
How can you tell which rabbits are getting old? Look for the grey hares
What do you call a cheerleading herb? An encourage mint
When do gorillas fall from the sky? During Ape-ril showers
What did the tree say when April began? What a re-leaf
What can be seen in the middle of April and March but can't be seen at the beginning or end of either one? The letter "r"
Hidden Pictures