Home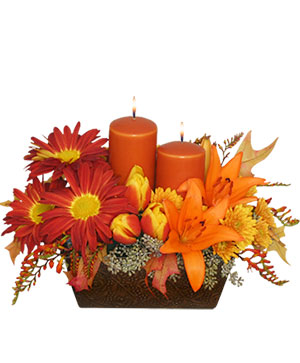 Abundant Beauty
Fall Centerpiece
These gorgeous orange tones are perfect for the holiday season! Decorate your Thanksgiving table with Red Rover chrysanthemums, montebresia, bi-colored orange & yellow tulips, bronze cushion poms, and pillar candles. This centerpiece is sure to impress this fall! Surprise a family member with this beauty today!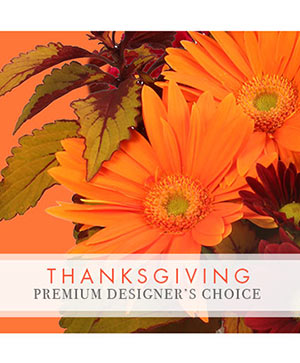 Thanksgiving Floral Beauty
Premium Designer's Choice
Show thanks by giving flowers! These gorgeous flowers are sure to stand out on a holiday filled with fall florals. Our Premium Designer's Choice Thanksgiving arrangement is the perfect gift for your loved ones for their holiday decor and dining room centerpieces!
Hi Kids! Welcome to the month of October!
October Fun Facts
When leaves change color in the Fall, they are actually becoming their true color. In the Summer, the chlorophyll (which is how the leaves receive nourishment from the sun) takes over and causes them to turn green and hide their color.
Pumpkins are grown all over the world. Pumpkins were originally grown in Mexico. Pumpkins are not only orange, some varieties are blue, white and green. The largest ever make was in New Bremen, Ohio - It was 20 feet in diameter and weighed 3,699 pounds!! It taak days to bakeb but was cut into 5,000 slices when it was finished.
Jokes To Share
How do you fix a broken pumpkin?
With a pumpkin patch
What are the birds giving out for Halloween this year?
Tweets
How do you make a witch itch?
You take away the W
What do ghosts serve for dessert?
Ice Scream!
Why do witches fly around on broomsticks?
Because their vacuum cleaners are too heavy